Products
Compression Spring Overview
India Spring Parts warehouses the largest inventory of high-grade, straight, cylindrically-shaped compression springs in the world. A compression spring is an open-coil helical spring that offers resistance to a compressive force applied axially. They are usually coiled at a constant diameter, though they can be coiled in other needed forms such as conical, concave (barrel), convex (hourglass), or various combinations of these. Compression springs are used to resist force and/or store energy, depending upon the application. All India Spring Parts compression springs are fabricated from round wire.
Compression Spring Characteristics
By far the most widely used type of spring, compression springs are designed to oppose compression and return to its uncompressed length when the applied force is removed. The potential applications for compression springs are limited only by the imagination.
Dimensions Measurement Guide

Hold the base of the spring in one hand, and the calipers in the other hand.
Place the calipers on the outside of the last coil, measuring the largest dimension. This is called the Outside Diameter (O.D.).
Place the calipers on the wire in the center of the spring. This is called the Wire or Material Size. You should also measure the wire toward one end for comparison and accuracy.
Place the calipers on the full length of the uncompressed spring. This is called Free Length.
Count the total coils, beginning at one end, just next to where the wire has been cut. Be sure you count all coils, including any portion of a coil. (see diagram for example)
Service Life
It should be noted that if critical force-versus-deflection linearity is required, only the center 60-80% of the available deflection range should be employed. Thus, reserve at least the first and last 15-20% of the range for potential spring-end and adjacent coil-contact effects. These effects can be largely ignored for the majority of spring applications.
The "Suggest Maximum Deflection" used in our online and print catalog reflects the recommended inches of travel to obtain a statistical service-life of approximately 100,000 cycles(deflections) with infrequent breakage. This can be realized if the spring in question is not subjected to shock loads, rapid cycling, temperature extremes, corrosion, or stress values above those recommended. If the spring is statically loaded (not cycling), a near-infinite life can be expected. Extended spring service-life can be achieved through shot-peening. Our custom spring departmentcan advise you regarding this procedure.
Materials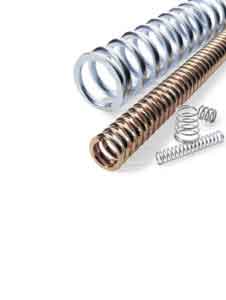 The highest grades of spring wire are used when fabricating our springs. To create cost-effective warehousing of our stock spring inventory for our customers, we offer material certification as custom springs only. Certifications of conformance for geometric tolerances set by the Spring Manufacturers Institute (SMI) are available for our stock springs upon request.
The term "spring steel" is a stock inventory term covering music wire, hard-drawn(MB) wire and oil-tempered wire. Additionally, stock compression spring materials may include stainless steel (300 series), beryllium copper, and phosphor bronze.
Tolerances
India Spring Parts manufactures our stock springs to commercial tolerances, as defined by the SMI. Calculated rates and loads based on SMI geometric tolerances have an approximate +/- 10%. Low or high-index springs will have higher values. Compression springs characteristically have an hourglass shape when coiled on an automatic coiler; therefore, outside/inside tolerancing is applied to end coils only. This is an improvement consideration when selecting a spring that fits over a rod or inside a cylinder. Call us if tighter tolerance values are required for your application.
Direction of Helix (Wind)
The wind direction of our stock springs varies, both right-hand and left-hand wind. Stock springs are not sorted for wind direction. To order spring wound a specific direction, please contact our custom spring division.
Ends
Both the online catalog and the print version provide data on end configuration for our stock compression springs. Available configurations include:
Closed (C) – The last coil at each end is bent back to touch the previous coil to create a flat base.
Closed and Ground (C&G) – The closed ends of a spring are ground to a more accurate flat base. This also reduces the solid length.
Open (O) – The spring end coils remain open, maintaining the spring machine's helical wind shape.
Finish
Our stock compression springs contain a selection of commonly requested finishes:
Zinc
Gold Irridite
Black Oxide
Passivated (upon request)
None (can be plated upon request)